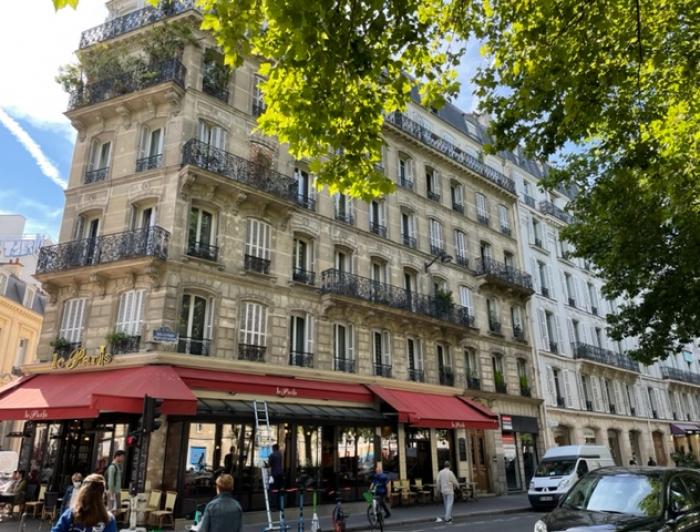 BAIL MOBILITE Bastille
boulevard Richard-Lenoir 75011 Paris
Type : Apartment
Size : 50m² (538 Sq Ft)
4 floor

N° of people suggested :


Destination commerciale : Bail Mobilite
Matricule licence mairie de Paris : BAIL MOBILITE
Enter your dates to see availability for this apartment
A mobility lease can be concluded if all of the following conditions are met:
The mobility lease can be concluded for a minimum period of 1 month, and a maximum of 10 months.
It is neither renewable nor renewable.
On the effective date of the lease, the tenant must be in one of the following situations:
Professional training
Graduate studies
Apprenticeship contract
Traineeship
Job transfer
Temporary assignment as part of his professional activity
50m2 apartment in the Bastille district, on the 4th floor with elevator.
This apartment is composed of a large bedroom (with dressing room) and with adjoining bathroom.
A fully equipped kitchen.
A living / dining room with a table for 4 people.
A Japanese toilet.
At the latest, 48 hours before your arrival, you must send us by email:
1) copy of your valid passport.
2) official certificate from your training center, or from your Parisian school, or from the company in which you are going to follow your apprenticeship, internship or transfer.
3) when you hand over the keys, you must sign a mobility lease.
These three documents are MANDATORY!
Toiletries (shower / shampoo gel)
Lift/elevator
Non-smoking rooms
Freezer
Full kitchen
Iron and ironing table
Oven (electric / gas)
Sound-proofing
Wi-Fi internet connection
Washing machine
Dishwasher
Household linens (sheets, bath towels)
Standard double bed, 140X190
Microwave
Stove top, 3 burners and more
Fridge / Freezer
Full bathroom (sink, tub / shower, WC / bidet)
Family room
Hairdryer
Dryer
Table with 3-4 chairs
Cable TV : France & International
Plates, bowls, glasses, and kitchen utensils
Fan
View
Taxes and charges are included in the price.
The booking will be fully confirmed after payment by VISA ou MasterCard card of 40%% of the total cost of the stay which represents RentParis' commission.
Payment of the balance should be made on arrival at the apartment by bank card: VISA or MasterCard
Read the terms and conditions