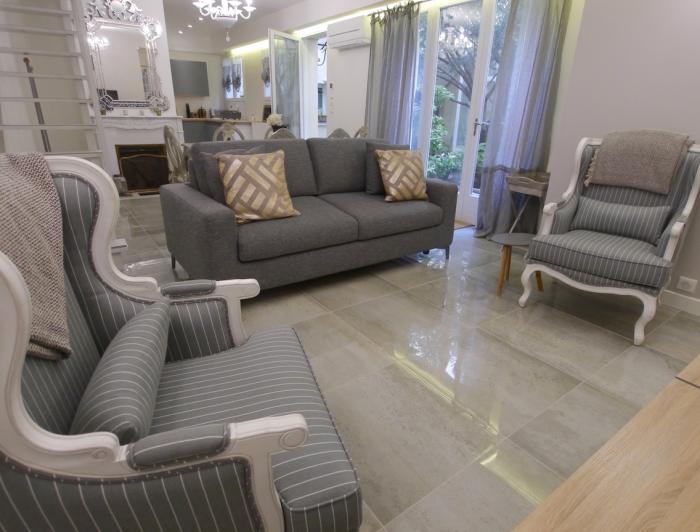 Le Marais, fullness and elegance
rue Volta 75003 Paris
Type : Apartment
Size : 140m² (1507 Sq Ft)
Ground floor

N° of people suggested :












Destination commerciale : Local Commercial
Matricule licence mairie de Paris : 7510302164389
Enter your dates to see availability for this apartment
This is a rare little cocoon in the heart of the Haut Marais, a set of 3 accommodations with a private courtyard and garden. 
In this private entrance you can park your bikes, scooters or motorcycles.
Then, behind the second gateway you can see the private inner courtyard and garden. 
You will find 3 independent accommodations on the ground floor around this exceptional courtyard where you can enjoy calm in the heart of Paris. 
Located at the Arts-et-Métiers metro, a few minutes walk from the Centre Georges Pompidou (Beaubourg), this set of 3 independent accommodations are arranged for a total of 11 people as follows:
These 3 accommodations are equipped with air conditioning and 3 WI-FI connections.
Accommodation no. 1 has a kitchen, living/dining room with a double sofa bed, one bedroom with a double bed, and a bathroom with toilet.
Accommodation no. 2 (the largest of the three) has a large kitchen, living/dining room with a double sofa bed, a bathroom with a shower, and a separate toilet. Then, upstairs (staircase of 16 steps), there is a master bedroom with its en-suite bathroom with toilet, and a second bedroom with a single bed.
Accommodation no. 3 is a studio and has a kitchen area, a shower room with toilet and a double sofa bed.
Rue Rambuteau is the main street in this district.
Additional information regarding life in this district, as well as activities recommended by RentParis can be found on the left hand column.
Air conditioning
Toiletries (shower / shampoo gel)
Family rooms
Non-smoking rooms
Freezer
Full kitchen
Iron and ironing table
Oven (electric / gas)
Wi-Fi internet connection
Garden and / or terrace
Washing machine
Dishwasher
Household linens (sheets, bath towels)
Standard double bed, 140X190
Double bed, 160X190
Single bed, 90X190
Microwave
Parking with extra charge
Electric stove top
Stove top, 3 burners and more
Fridge / Freezer
Full bathroom (sink, tub / shower, WC / bidet)
Family room
No lift/elevator
Hairdryer
Dryer
Table, +4 chairs
Cable TV : France & International
Plates, bowls, glasses, and kitchen utensils
Taxes and charges are included in the price.
The booking will be fully confirmed after payment by VISA ou MasterCard card of 10% of the total cost of the stay which represents RentParis' commission.
Payment of the balance should be made on arrival at the apartment by bank card: VISA or MasterCard
Read the terms and conditions
Sean Campbell - Wallington, royaume-uni

02/25/2020
Charming French Style Property

4/5 : Very good
I recommend this rental
I appreciated the relation between cost and quality of this rental
This place was perfect for our family of 8. The property description could have been a little more accurate with regards to access and security but none of this proved to be an issue throughout the stay. Every room was clean, well furnished and charming detail. The heating could have been an improvement for the main apartment as the warm air travels straight upstairs from the AC unit, but not a major issue. Living in the suburbs of London/Surrey all my life, I found it difficult getting used to the security arrangements. All the doors for each apartment aren't locked. Instead you have a solid large gate and courtyard door. All in all, a wonderful property, perfect for multi-generational families who want to be close to the centre of Paris.