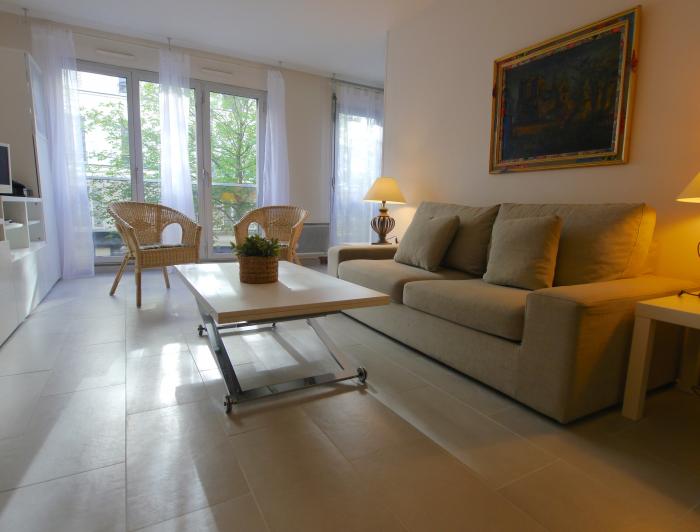 Canal Saint Martin Bouchardon
Rue Bouchardon 75010 Paris
Type : Apartment
Size : 50m² (538 Sq Ft)
1 floor

N° of people suggested :



Destination commerciale : Bail Mobilite
Matricule licence mairie de Paris : BAIL MOBILITE 1 / 10
Enter your dates to see availability for this apartment
This apartment is only available for rent with a "Mobility Lease".
For which tenant?
Only some people can sign a mobility lease as a tenant.
On the effective date of the lease, the lessee must be able to justify being:
* In vocational training,
* Or in higher education,
* Or in apprenticeship contract,
* Or in training,
* Or in voluntary engagement as part of a civic service,
* Or in professional change,
* Or on temporary assignment in the context of his professional activity.
Duration of the rental
The mobility lease is concluded for a minimum of 1 month and a maximum of 10 months.
This contract is non-renewable and non-renewable.
The duration of the lease can be changed once per rider, but the total duration of the contract can not exceed 10 months.
At the end of the lease, if the tenant and the owner sign a new lease for the same furnished apartment, then this new lease is necessarily the lease of a furnished rental.
This lovely apartment is located on the right bank, on the edge of the 3rd district in the 10th arrondissement of Paris, less than 3 minutes walk from the metro station " Republique " or " Strasbourg Saint- Denis ", 15 minutes walk from the Centre Georges Pompidou (Beaubourg), and a few minutes from the Canal Saint-Martin.
This apartment (1st floor with a lift) is very light, quiet and really cosy.  It is arranged as follows: 
This apartment has a separate bedroom with two single beds that can be pushed together to make up a double bed. A beautiful bathroom with a large walk-in shower, full kitchen and living room with a sofa bed for a child under 10 years.
The apartment is less than a 15 minutes walk from Rue Rambuteau, the main street in the Marais.
More information on the life of the quartier and things to do recommended by RentParis in the column on the left.
Accessible to persons with reduced mobility
Toiletries (shower / shampoo gel)
Lift/elevator
Non-smoking rooms
Concierge
Freezer
Full kitchen
Iron and ironing table
Oven (electric / gas)
Sound-proofing
Wi-Fi internet connection
Washing machine
Dishwasher
CD - DVD - BluRay player
Household linens (sheets, bath towels)
Double bed, 180X190
Microwave
Parking with extra charge
Stove top, 3 burners and more
Radio alarm clock
Fridge / Freezer
Answering machine
Full bathroom (sink, tub / shower, WC / bidet)
Hairdryer
Dryer
Table with 3-4 chairs
Unlimited calls to French landlines and mobile phones
Unlimited calls to USA / Canada
Cable TV : France & International
Plates, bowls, glasses, and kitchen utensils
Fan
Taxes and charges are included in the price.
The booking will be fully confirmed after payment by VISA ou MasterCard card of 10% of the total cost of the stay which represents RentParis' commission.
Payment of the balance should be made on arrival at the apartment by bank card: VISA or MasterCard
Read the terms and conditions
saskia - Stockport

06/01/2015
Excellent service and location
5/5 : Excellent
I recommend this rental
I appreciated the relation between cost and quality of this rental
The customer service was perfect
We stayed for 3 nights in Canal Saint Martin Bouchardon. We were met by Fabrice at the gates who helped us with our luggage and showed us the apartment. He was as helpful in person as he had been by email when arranging the holiday. The apartment is in a fantastic location, next to a lovely indoor market and restaurants and shops nearby. Very easy fro transport and only a short walk to the Pompidou and the Marais. The apartment is well equipped and very comfortable and quiet. Perfect for a family stay, I came with my daughter and mum or would be ideal for a couple. I would definitely come back here next time I'm in Paris.
Tobi-Velicia - Chicago

10/02/2015
I Love RentParis!
5/5 : Excellent
I recommend this rental
I appreciated the relation between cost and quality of this rental
The customer service was perfect
This was my third time renting an apartment in Paris and my second time renting the Canal Saint Martin Bouchardon apartment. Jean-Pierre and Fabrice as always are very welcoming and helpful. I called when I arrived at CDG and made arrangements to meet in front of the apartment. I was met promptly and everything that I needed to know about the apartment was discussed. I also really appreciated having a "renter's manual" available for printing online when I secured the rental, and additional printed information at the apartment itself. The apartment was lovely and had everything I needed. Living in a nice apartment while visiting Paris gives a feeling of being a resident instead of just a tourist. Jean-Pierre and Fabrice also arranged my travel back to CDG. The driver arrived on time and was very courteous and polite. A great ending to my wonderful stay in Paris. I will be renting again from RentParis and have already picked out a place in the Marais for 2018! :-)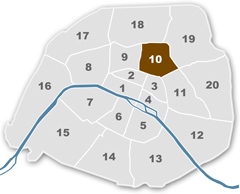 Things to do
Monuments
You will be welcomed by :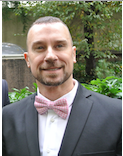 Fabrice de Simone