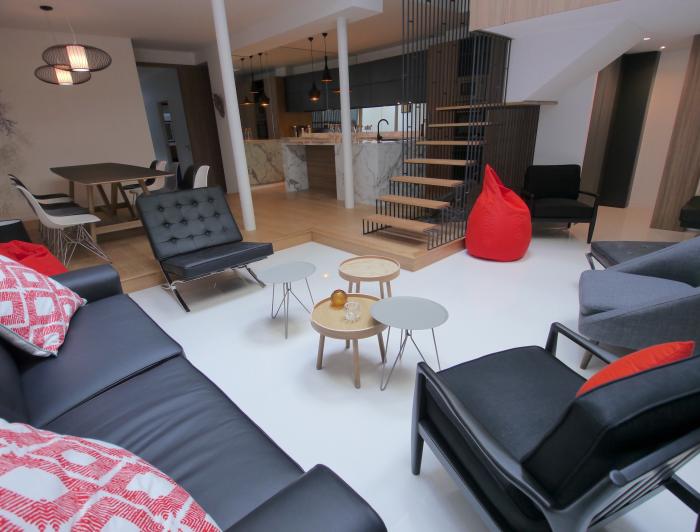 BAIL MOBILITE : Bastille Loft
rue du Faubourg saint-Antoine 75012 Paris
Type : Apartment
Size : 170m² (1830 Sq Ft)
Ground floor

N° of people suggested :











Destination commerciale : Bail Mobilite
Matricule licence mairie de Paris : 7511204071676
Enter your dates to see availability for this apartment
When can I use a mobility lease?
A mobility lease may be used between a host and a guest for the rental of a furnished unit (primary or secondary residence), providing all the following conditions are met:
The accommodation is rented for a period of between 1 and 10 months
The mobility lease is used for a minimum duration of 1 month, and maximum of 10 months. It is possible to change the duration of the lease once by amending the lease. Then, the total duration of the extended lease cannot exceed 10 months.
The mobility lease cannot be renewed. This means that once it is over, it is not possible to extend the duration of the mobility lease, nor to start a new lease with the same tenant.
If the same tenant wishes to stay in the furnished unit at the end of the mobility lease, the new lease will necessarily be a "classic" furnished rental lease.
The tenant must be in need of long term accommodations for certain reasons
Effective on the date of the lease, the tenant must be in one of the following situations:
Professional training
Graduate studies
Apprenticeship contract
Traineeship
Voluntary engagement as part of a civic service
Job transfer
Temporary assignment / relocation in the context of his professional activity
In the context of a mobility lease, the tenant will make the accommodation his residence. It's important to note: a mobility lease is not intended to accommodate tourists.
Modern, loft-style apartment located on the right bank, in the 12th arrondissement of Paris, in the Opéra district, just metres from the 4th arrondissement (Le Marais), the Aligre Market and the Place de la Bastille.

The Place des Vosges, one of the main attractions in the Marais district, is less than 20 minutes walk away. This loft is in a lively district with plenty of bars, cafes and restaurants with terraces.

This apartment's architecture has been decorated with taste and elegance and is equipped for 14 people. 

This exceptional property is composed as follows:                                 
A large living/dining room with an open kitchen and high ceilings with a sofa bed (sleeping 2 people) and several armchairs.
A fully-equipped kitchen with a table that can seat all the guests.
6 Bedrooms (5 with double beds and 1 with 2 single beds: for 12 people).
5 Bathrooms (some with shower, some with a bath and one with both).
Bedroom 1 : One double bed (160X200) with a shower with view on the patio.
Bedroom 2 : One double bed (160X200) with a bathtub with shower system and partial view on the patio.
Bedroom 3 : One double bed (160X200) with view on the patio.
Bedroom 4 : One double bed (160X200) with view on the patio.
Bedroom 5 : One double bed (160X200) with shower + WC
Bedroom 6 : 2 Single Beds 90X180
1 independent W.C
1 independent bathroom with shower + WC
1 independent shower-room 

1 sofa-bed (140X180) for 2 people.

A lovely open patio. It is strictly forbidden to smoke in the apartment.

Further information regarding the neighbourhood and activities recommended by RentParis can be found in the left hand column.
Toiletries (shower / shampoo gel)
Non-smoking rooms
Freezer
Full kitchen
Iron and ironing table
Oven (electric / gas)
Wi-Fi internet connection
Garden and / or terrace
Washing machine
Dishwasher
Household linens (sheets, bath towels)
Standard double bed, 140X190
Double bed, 160X190
Single bed, 90X190
Microwave
Parking with extra charge
Electric stove top
Stove top, 3 burners and more
Radio alarm clock
Fridge / Freezer
Full bathroom (sink, tub / shower, WC / bidet)
Family room
No lift/elevator
Hairdryer
Dryer
Table, +4 chairs
Cable TV : France & International
Plates, bowls, glasses, and kitchen utensils
Fan
Taxes and charges are included in the price.
The booking will be fully confirmed after payment by VISA ou MasterCard card of 7% of the total cost of the stay which represents RentParis' commission.
Payment of the balance should be made on arrival at the apartment by bank card: VISA or MasterCard
Read the terms and conditions