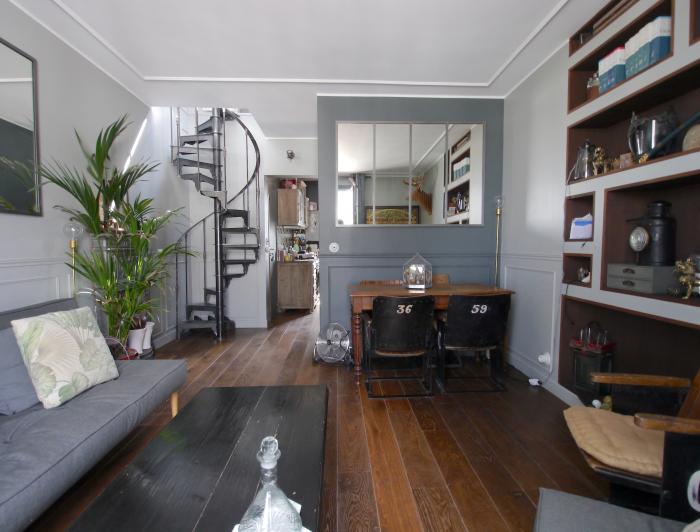 Faubourg Porte Saint Denis
rue du Faubourg St-Denis, 75010 Paris
Type : Duplex
Size : 50m² (538 Sq Ft)
5 floor

N° of people suggested :





Destination commerciale : Habitation principale
Matricule licence mairie de Paris : 7511002116686
Enter your dates to see availability for this apartment
We highly recommend this apartment for slender young people. 5th floor, no lift. The room is upstairs, duplex, and the spiral staircase is not practical for people of strong build.
Toiletries (shower / shampoo gel)
Non-smoking rooms
Full kitchen
Iron and ironing table
Oven (electric / gas)
Wi-Fi internet connection
Washing machine
Dishwasher
Household linens (sheets, bath towels)
Double bed, 160X190
Parking with extra charge
Stove top, 3 burners and more
Fridge / Freezer
Full bathroom (sink, tub / shower, WC / bidet)
No lift/elevator
Hairdryer
Dryer
Table with 3-4 chairs
Plates, bowls, glasses, and kitchen utensils
Fan
View
Taxes and charges are included in the price.
The booking will be fully confirmed after payment by VISA ou MasterCard card of 10% of the total cost of the stay which represents RentParis' commission.
Payment of the balance should be made on arrival at the apartment by bank card: VISA or MasterCard
Read the terms and conditions