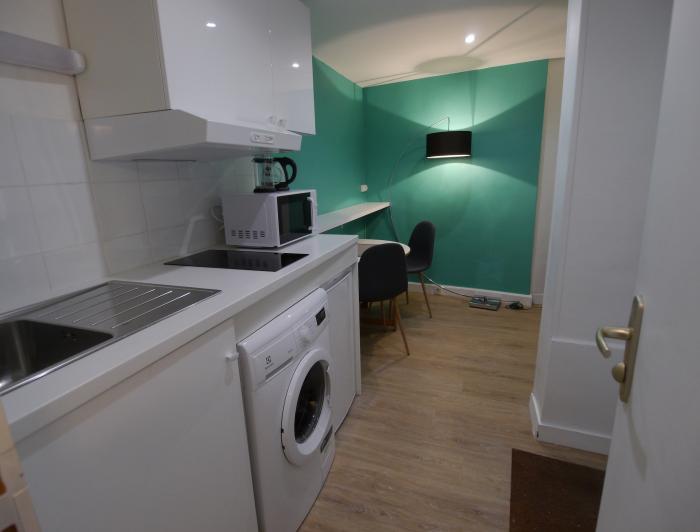 Paris Arts-et-Métiers rue Au Maire
rue au Maire 75003 Paris
Type : Studio
Size : 21m² (226 Sq Ft)
Ground floor

N° of people suggested :



Destination commerciale : Local Commercial
Matricule licence mairie de Paris : 7510303405890
Enter your dates to see availability for this apartment
This small apartment is on the right bank, in the 3rd arrondissement of Paris, the Marais Beaubourg, a few metres from the Pompidou Centre (Beaubourg) and Rue Rambuteau, in a lively area, near to shops. The flat is less than 100 metres walk from Arts-et-Métiers Metro station, and 200 metres walk from Rambuteau Metro station. You are just a ten minute walk from Notre Dame cathedral, Beaubourg and Arts-et-Métiers. 
Rue Rambuteau is the main street in this quartier and is where Parisians like to do their shopping.  There are grocery shops, a butcher, fishmonger, wine merchants, greengrocers, bakers and famous pâtisseries such as La Huré and Pain de Sucre and the French master chocolatier François Pralus, inventor of La Praluline (a brioche with a praline base that is eaten for breakfast).
More information on the life of the quartier and things to do recommended by RentParis in the column on the left. 
Toiletries (shower / shampoo gel)
Non-smoking rooms
Kitchenette
Iron and ironing table
Wi-Fi internet connection
Washing machine
Household linens (sheets, bath towels)
Standard double bed, 140X190
Microwave
Stove top, 2 burners
Full bathroom (sink, tub / shower, WC / bidet)
No lift/elevator
Hairdryer
Table with 1-2 chairs
Cable TV : France & International
Plates, bowls, glasses, and kitchen utensils
Fan
Taxes and charges are included in the price.
The booking will be fully confirmed after payment by VISA ou MasterCard card of 10% of the total cost of the stay which represents RentParis' commission.
Payment of the balance should be made on arrival at the apartment by bank card: VISA or MasterCard
Read the terms and conditions