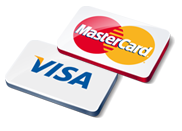 Payment for "Holiday Rentals"
Holiday Rentals
Our "Holiday Rentals" on www.RentParis.com are managed by the French estate agency WELCOMEPARIS SAS, with a license valid on the entire French territory. The management of "Holiday Rentals" by a real estate agency ensures excellent service and a guarantee of quality.
A deposit upon booking is required: 40%
The balance must be settled on the day of arrival.
You can make your booking by using your VISA or MasterCard credit card as you would with any other online purchase. 
We use the 3-D Secure system. Under the trade names Verified By Visa and MasterCard Secure Code, Secure 3-D was developed by Visa and MasterCard to allow merchants to reduce the risk of Internet fraud related to identity theft: It is to ensure, at each online payment, that the card is used by its true owner.
In the case that both the merchant and the cardholder's bank are equipped with this feature, there is an additional step at the time of payment. In addition to the credit card number, the expiry date of the card and the three-digit security code (printed on the back of the card), the user must enter a password, such as date of birth (simple authentication) or a single-use dynamic code (strong authentication).
For obvious security reasons we do not have the technical means to save your credit card information. All pages are secure, encrypted by our bank: Caisse d'Epargne Ile-de-France.
Upon receipt of your payment by the financial institution, you will receive an e-mail confirmation of your booking. Please take some time to read all the information in our Terms and Conditions.
If you have any questions about payment, please contact us at any time rentparis@rentparis.com
WELCOMEPARIS SAS
+33 (0)6 68 46 68 05
WELCOMEPARIS S.A.S. 2 allée des Iris, 85190 Venansault, France. Carte Professionnelle 9401 2018 000 031 048 délivrée par CCI DE FRANCE le 18/06/2018