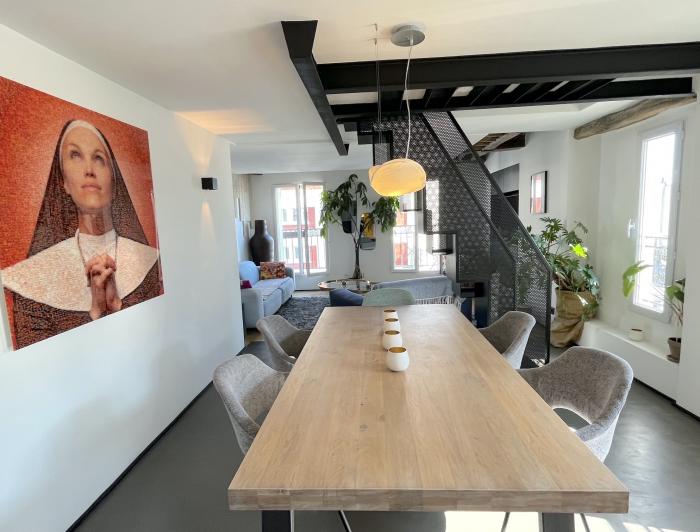 Duplex Republique Canal Saint Martin
rue du Fbg du Temple, 75010 Paris
Type : Duplex
Size : 85m² (915 Sq Ft)
5 floor

N° of people suggested :





Destination commerciale : Habitation principale
Matricule licence mairie de Paris : 7511007357854
Enter your dates to see availability for this apartment
Beautiful, very bright duplex with air conditioning.
2 minutes walk from the Goncourt metro station, and 7 minutes walk from the Place de la République, 6 minutes walk from the Saint-Louis hospital, and the Saint-Martin canal.
On the first level of this duplex:
Beautiful living room, with an open kitchen and a dining area for 6 people, a lounge area, and a W.C.
on the floor of this duplex:
A bedroom with a 160X200 double bed
A bedroom with a 140X200 double bed
A very large bathroom with a shower + a W.C.
The neighborhoods around the Canal Saint-Martin (a 4.55 km long canal) are located in the 10th and 11th arrondissements of Paris, between the République, Jacques Bonsergent, and Goncourt metro stations.
A trendy little village in the heart of Paris! A bobo Paris, popular and always romantic.
All you have to do is take a walk in the evening near the Hôtel du Nord at 102 quai de Jemmapes, cross a footbridge under centuries-old trees to hear Arletty's voice: "Atmosphere, atmosphere! Do I have a mouthful of atmosphere? »
Once one of the most popular areas of Paris, the Canal Saint-Martin has now become very bobo. However, it has retained its romanticism thanks to its bridges and nine locks frequented by barges and pleasure boats.
Here, we come across actors, producers, computer scientists, artists, engineers and even journalists, but also families who, on Sundays, enjoy taking walks almost like in the countryside. On summer evenings, many people settle there to picnic or play music.
The bars and restaurants - Chez Prune at 36 rue Beaurepaire, Le Verre Volé at 67 rue de Lancry, etc. - seduce local residents and passers-by attracted by the warm atmosphere.
The developed cycle paths encourage beautiful walks over several kilometres. Since 1994, traffic has been partially prohibited for cars on Sundays. A situation that would not have displeased Louis XIV, who imagined the canal, and Napoleon I, who began digging it in 1802. Built to bring water to Parisians, it was financed by a tax on… wine.
Air conditioning
Toiletries (shower / shampoo gel)
Lift/elevator
Non-smoking rooms
Full kitchen
Iron and ironing table
Oven (electric / gas)
Sound-proofing
Wi-Fi internet connection
Washing machine
Dishwasher
Household linens (sheets, bath towels)
Standard double bed, 140X190
Double bed, 160X190
Microwave
Stove top, 3 burners and more
Fridge / Freezer
Full bathroom (sink, tub / shower, WC / bidet)
Family room
Hairdryer
Dryer
Table, +4 chairs
Cable TV : France & International
Plates, bowls, glasses, and kitchen utensils
View
Taxes and charges are included in the price.
The booking will be fully confirmed after payment by VISA ou MasterCard card of 40%% of the total cost of the stay which represents RentParis' commission.
Payment of the balance should be made on arrival at the apartment by bank card: VISA or MasterCard
Read the terms and conditions