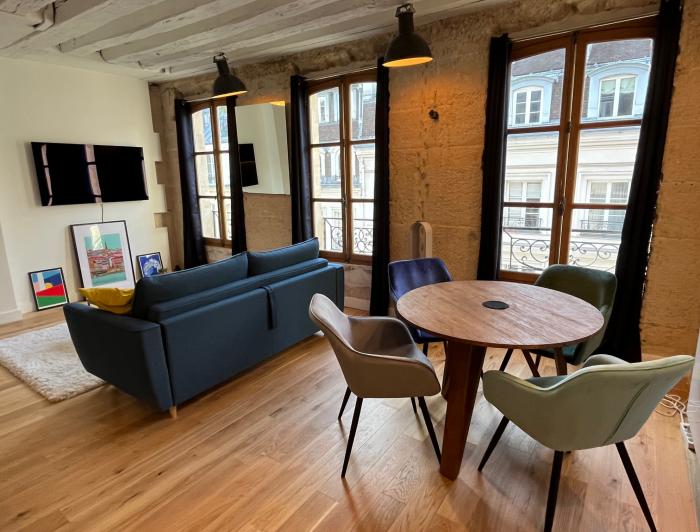 Down town Saint Honore Palais Royal
rue Saint Honore 75001 Paris
Type : Apartment
Size : 50m² (538 Sq Ft)
4 floor

N° of people suggested :



Destination commerciale : Habitation principale
Matricule licence mairie de Paris : 7510107418677
Enter your dates to see availability for this apartment
This 50m2 apartment, on the 4th floor (5th American floor) without elevator, is composed of a bedroom with a double bed of 160X200 (Queen Size). It is perfect for two people.
It is located between the Louvre-Rivoli and Les Halles metro stations, in the heart of Paris, a 4-minute walk from the Louvre Museum, a 13-minute walk from the Center Georges Pompidou (Le Marais), and, 20 minutes' walk from the Avenue des Champs-Élysées.
Its location is ideal for visiting the city in complete freedom.
The 1st arrondissement of Paris is one of the most central arrondissements in the historic heart of Paris. It includes in particular one of the oldest districts of the city, the Halles district, which dates from the very beginning of the Middle Ages.
The 1st arrondissement is bordered to the south by the 7th arrondissement and 6th arrondissement, to the west by the 8th arrondissement, to the north by the 2nd arrondissement and to the east by the 3rd arrondissement and 4th arrondissement. Located on the right bank, it also includes the western part of the Ile de la Cité.
Toiletries (shower / shampoo gel)
Non-smoking rooms
Freezer
Full kitchen
Iron and ironing table
Oven (electric / gas)
Sound-proofing
Wi-Fi internet connection
Washing machine
Dishwasher
Household linens (sheets, bath towels)
Double bed, 160X190
Microwave
Stove top, 3 burners and more
Fridge / Freezer
Full bathroom (sink, tub / shower, WC / bidet)
Family room
No lift/elevator
Hairdryer
Dryer
Table with 3-4 chairs
Cable TV : France & International
Plates, bowls, glasses, and kitchen utensils
Fan
Taxes and charges are included in the price.
The booking will be fully confirmed after payment by VISA ou MasterCard card of 40%% of the total cost of the stay which represents RentParis' commission.
Payment of the balance should be made on arrival at the apartment by bank card: VISA or MasterCard
Read the terms and conditions