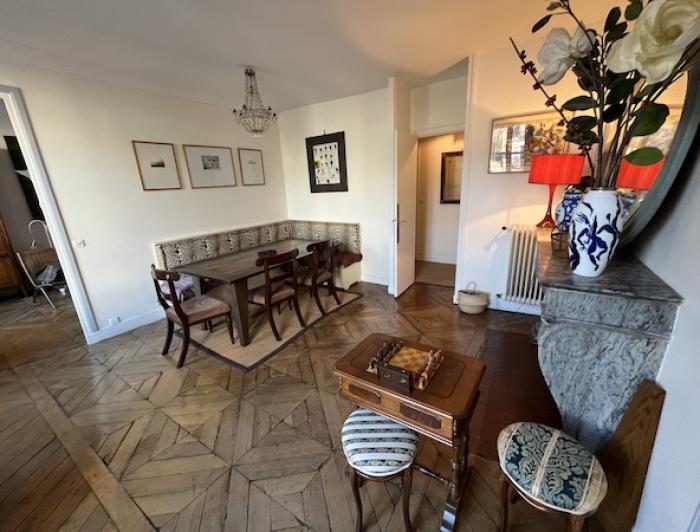 Vivienne Palais Garnier Saint Augustin
rue Saint-Augustin 75002 Paris
Type : Apartment
Size : 115m² (1238 Sq Ft)
4 floor

N° of people suggested :





Destination commerciale : Habitation principale
Matricule licence mairie de Paris : 7510207438545
Enter your dates to see availability for this apartment
Family apartment for a couple with two children (or 2 young adults).
By staying in this 3-bedroom apartment, you will be in the Vivienne district, in the 2nd arrondissement, between the Quatre-Septembre, Opéra, Richelieu-Drouot and Bourse metro stations.
The Bourse station is less than 4 minutes away on foot.
The rooms are composed as follows:
Bedroom # 1: A double bed 160X190
Bedroom # 2: A single bed 90X190
Bedroom # 3: A single bed 90X190
There are two bathrooms each with W.C.
The kitchen is fully equipped.
The TV is in the living room.
You can take all your meals in the dining room around the family table.
The district is bounded to the west by rue Sainte-Anne and rue de Gramont (bordering the Gaillon district), to the north by boulevard des Italiens and boulevard Montmartre (bordering the 9th arrondissement), to the east by rue Notre-Dame -des-Victoires and Vide-Gousset (bordering the Mail district) and to the south by rue La Feuillade and rue des Petits-Champs (bordering the 1st arrondissement).
Rue Vivienne was first a Roman road leading to Saint-Denis, lined, according to the custom of the ancients, with graves of which many debris have been found.
Rue Vivienne remained a road through fields throughout the Middle Ages. A few houses were built there in the 16th century. It then took its name from the Vivien family who owned land there. The road became a street and really began to be inhabited when the construction of the Palais-Royal pushed back the ramparts of Paris to the Grands Boulevards.
Toiletries (shower / shampoo gel)
Lift/elevator
Non-smoking rooms
Full kitchen
Iron and ironing table
Oven (electric / gas)
Sound-proofing
Wi-Fi internet connection
Washing machine
Dishwasher
CD - DVD - BluRay player
Household linens (sheets, bath towels)
Double bed, 160X190
Single bed, 90X190
Microwave
Stove top, 3 burners and more
Fridge / Freezer
Full bathroom (sink, tub / shower, WC / bidet)
Family room
Hairdryer
Table, +4 chairs
Cable TV : France & International
Plates, bowls, glasses, and kitchen utensils
Fan
Taxes and charges are included in the price.
The booking will be fully confirmed after payment by VISA ou MasterCard card of 40%% of the total cost of the stay which represents RentParis' commission.
Payment of the balance should be made on arrival at the apartment by bank card: VISA or MasterCard
Read the terms and conditions